Peace! Greetings from Chicago!

Thank you for making it here, to our bandcamp page. This is the last stop on the online OneLove train. No more links, no more asks beyond this one. For the true fans/believers, this is the best way to support us: by subscribing here for just $15 a year, you will first of all immediately receive the full catalog of music I have put up here so far, including OneLove's debut EP "Cicada Season," along with the three singles we have for sale up here. More importantly, you will very soon be receiving our epic first full album, "All of You," tentatively scheduled for release in less than a month!! (The album download itself is $15, which according to my rigorous calculations makes your first year of subscribing to us something like a 10,000% value!) You will then ALSO get a 15% discount on all merch items, as well as an occasional song, video, poem, etc. that is "subscriber exclusive" at least once a quarter! AND you will get the intrinsic reward of knowing that you are supporting our music in the most direct, sustainable way - truly the best way you can. THANK YOU!!! <3 *One Love*

I am guessing that if you've made it this far, you already know who we are. But for those who may not know us very well: Hey! My name is Adam Gottlieb, and I lead a band, Adam Gottlieb & OneLove, based in Chicago, IL, USA. We make music for the movement. By "the movement," we mean all of the interconnected struggles over life-and-death issues such as housing, healthcare, water, food, environment, peace, justice, education, democracy, etc. Our music is difficult to define in terms of genre, so we describe it in a few different ways: "folk-hop fusion", "modern folk-rock", "folk/rock/reggae fusion with hip hop overtones and blues/funk undertones"... You listen to it, and you tell us what to call it! The point is, it's revolutionary: music with a conscious political and spiritual message that is for everyone, which is why we hope there is a little something for everyone in the music itself.
Here's what you get:
All the new music we make

streaming instantly on your mobile device via the free Bandcamp app, and also available as a high-quality download.*

These back-catalog releases:
A 15% discount on all our merchandise.
The satisfaction of knowing you're supporting us in a sustainable way.
You're a subscriber
Thank you!
* Downloads are DRM-free and available in MP3, FLAC and
more
.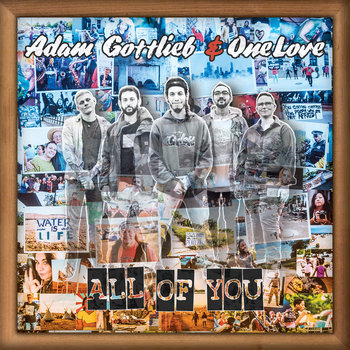 Adam Gottlieb & OneLove
Chicago, Illinois
Adam Gottlieb & OneLove weave together strands of Folk, Funk, Blues, Rock, Hip Hop, Reggae, Jazz and more. With songs directly inspired by the gathering movement for a new world, we offer our songs as a contribution to the soundtrack of our revolution.
Upcoming release
All Of You